Hair Regrowth Treatments Offered
PLATELET RICH PLASMA (PRP) is a treatment that promotes hair growth. This procedure involves the collection of your blood (8-16ml) that is centrifuged to separate the plasma and platelets. The PRP will be injected into the scalp to stimulate hair growth. The product injected is your own blood by-product. Results are expected after 3 monthly treatments with 1-2 maintenance therapies per year.
Kybella® is a prescription medicine used in adults to improve the appearance and profile of moderate to severe fat below the chin (submental fat), also called "double chin."
Click here to learn more about Kybella®
Sclerotherapy
Sclerotherapy "Spider veins" is the treatment of varicose blood vessels by the injection of an irritant that causes inflammation, coagulation of blood, and narrowing of the blood vessel wall.
Surgical
Cosmetic neck tightening procedure also known as direct neck. Performed in the office under local anesthetic.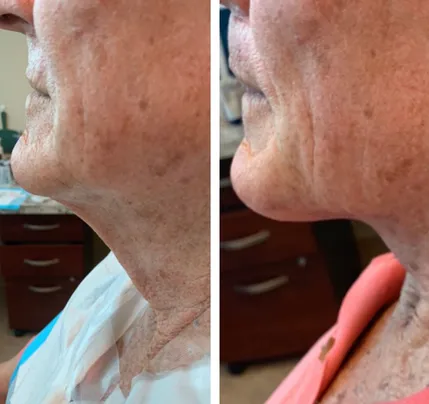 Before and 1 hour after procedure performed on a 78yr old male patient.